CELEBRATES 25 YEARS!
---
To God be the glory for the things He has done! This year we have a lot to celebrate! We have a new roof, our new parking lot is almost complete, the food ministry has been active for 10 years and this year Harmony Community Church will be celebrating 25 years of "Loving and Serving Like Christ"! We'd love for you to join us as we celebrate all the Lord has done. Our celebration will start on Saturday, November 5, 2016. On this evening there will be a CELEBRATION GALA! It will be an elegant evening at Harmony. Inclusive of a banquet dinner, live music, and a silent and live auction. The tickets for the dinner are $75 per person.
On Sunday, November 6, 2016 we will have a Ribbon Cutting Cermony, a Potluck Luncheon, and we will all have the opportunity to worship together!
We look forward to celebrating with you!
To Purchase Tickets to Thanksgiving Gala click link below
---
Weekly Schedule
Sunday
Christian Education     8:45 AM
Worship Service          10:00 AM
Wednesday
Food Pantry                 11:00 AM-1:00 PM
Mobile Bible Study       7:00 PM
---
Mobile Bible Study

Connect with us from any city, state, or country. Join in as we take an interactive journey through the reading and study of Gods word, from the convenience of your home!
Prayer Line
Join us every morning at 6 am for prayer.
Dial (641) 715-3645 Access Code 525116#.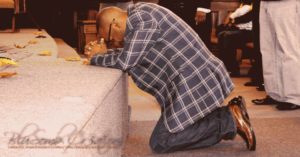 ---
Groundbreaking Ceremony    

             
We are pleased to announce our groundbreaking parking lot renovation. On Friday June 3, 2016 Harmony celebrated a groundbreaking ceremony in our soon to be new Parking Lot. The ceremony was shared with members of Harmony, the Lawndale Community, 24th Ward Alderman, Micheal Scott, Commissioner Robert Steele, and Lawndale Community Church and Health Center. The new lot will be stationed on the corner of Ogden Ave and Millard featuring 80 plus parking slots, greenery, and seating areas. Construction is now under way for our new lot. Enjoy pictures from the ceremony below.
1908 South Millard
Chicago IL, 60623
(773)763-WORD (9673)
Harmony Community Church ~1908 South Millard~(773) 762-WORD (9673)